Good morning beauties!
I have another beauty product review for you. I picked up this mascara in carbon black on the recommendation of a friend after finishing my second tube of Maybelline Lash Stiletto. I adore the Lash Stiletto mascara but I wanted an increase in the length and volume of my lashes so thought I would try a different mascara after finishing off that second tube.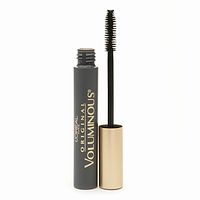 L'Oreal's website states that this mascara: builds lashes to 5x their natural thickness with 2x the intensity of your regular black shade. It also states that this formula is clump-resistant (Woohoo!).
When first using this mascara everything was great. I did feel that my lashes looked thicker and longer. I also like the flat black color of this over the slightly shiny finish of Stiletto.
However, after a couple weeks of use I AM getting clumps! RAWR.
I despise clumped together lashes. It seems that the formula is changing the more I use it. I now have to spend several moments swiping the wand against a paper towel (or the rim of the mascara tube) to ensure that there's even distribution of the product through my lashes and no clumpage.
This never happened to me with Maybelline's Lash Stiletto.
I do not pump my mascara and I am a 1 coat girl so I don't understand why the formula seems to be changing (for the worse!) after a bit of use. I do not want to have to continuously buy new mascara when I'm not even done with the first tube.
So I will not be repurchasing this mascara. Are there any recommendations for a different mascara to increase length and volume of lashes?