I've seen billions of videos on youtube showing the youtuber's makeup collection and I wanted to participate. I will probably do a video myself once I figure out how to upload and edit using my camera rather than my boyfriend's built in webcam. I'm hoping I can get some editing software for free from somewhere (if you all know something about this lemme know please!)
Anyways, here's some items in my makeup collection that I use on a regular basis, that I love, etc.
ELF, eyeslipsface.com
Elf's all over color stick in pink lemonade - usually use this as a blush
Elf's all over face brush - I use this for bronzer mostly and powder foundation. Using it less though as I got a kabuki brush from natural minerals or something.
ELF's brightening eye color in drama - omg I used to use this ALL the time for an awesome silvery smokey eye when I was going out. I use the light silver pretty often as an inner corner highlight still.
Bare Escentuals
mineral blush in crushed velvet (couldn't find a picture of it, came inthe Get Started Eyes, Cheeks, Lips kit, tan-dark)
I also use the brushes from this kit (except the lip liner), the lip plumping gloss is a little too intense for me in terms of the tingling effects.
Coastal Scents
V~ I LOVE the 88 piece makeup palette and I use it pretty often, the shadows are a little powdery but work nice.
Urban Decay
I use this palette a lot more than I did when I first bought it (after watching a tutorial from Fafinettex3) because I've learned more about color combination and what looks good on my eyes, with my skintone, etc.
this primer potion is the holy grail, however, I've never used any other kind of primer. I think I will pick something up (probably drugstore) just to be able to compare in my mind and feel more happy I have this. I also want to try their new pore minimizing potion!
MAC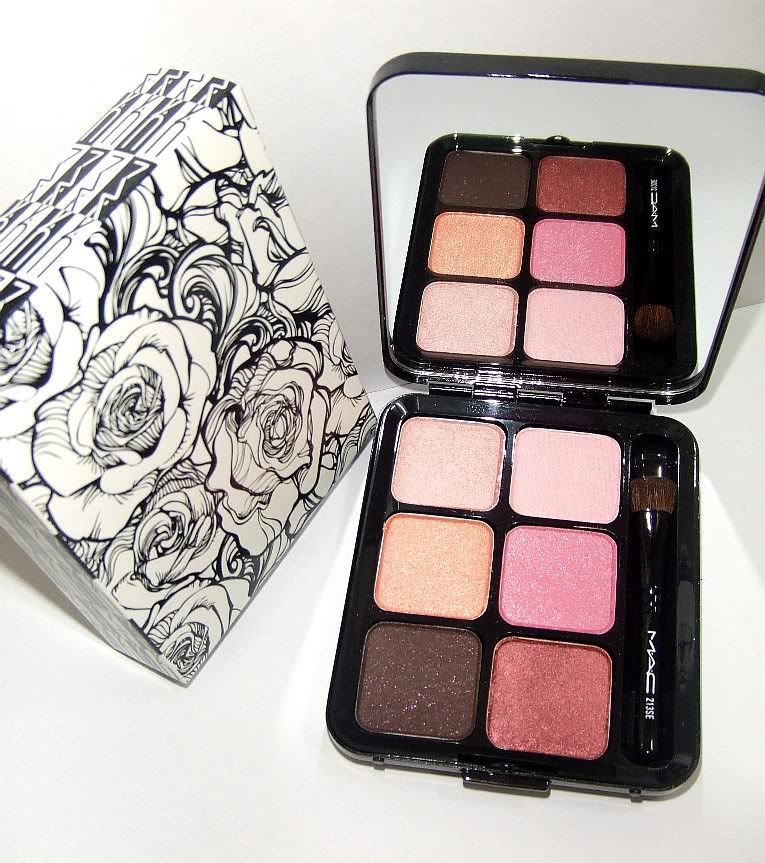 The MAC graphic garden fresh cut palette from Nordstrom - I JUST got this Friday but I've already used it a bunch of times; I think my new obsession are the last two colors, poppy noir and fresh cut.
Alright, I think that's all I'll put up here in the blog post so I don't kill everyone with pictures. If you're interested to see anything else I can post something in comments or whatnot, like what I use for foundation, etc.
I also recently placed an order with MAC for three eyeshadows and a palette for my growing (slowly) collection. The shadows are 'mythology', 'retrospeck', and 'trax'. Super excited to try them out when I get them. I also own a quad with 'amberlights', 'honeylust', 'nylon', and 'saddle' along with the lipsticks 'blankety' and 'brave new bronze'.
I had to get the two front brakes on my car fixed ($300) this weekend so I won't be purchasing any new makeup for a while even though I REALLY want some new brushes (was looking at ELF's studio sculpt line and/or Coastal Scents) a couple palettes from Coastal Scents, and I want to try some drugstore stuff I've been hearing rave reviews on (some stuff from Revlon and Rimmel).
Ah well. Here's to saving up!! I will probably posting up some grumpy blogs soon about not being able to do anything, lol.