I got this tag from
Aquaheart
who tagged anyone who wanted to do it, heh.
The thing is to list 5 things that you are currently obsessed with so here goes!
1. MAKEUP!
(picture is [not my makeup] curtesy of
necessarymakeup)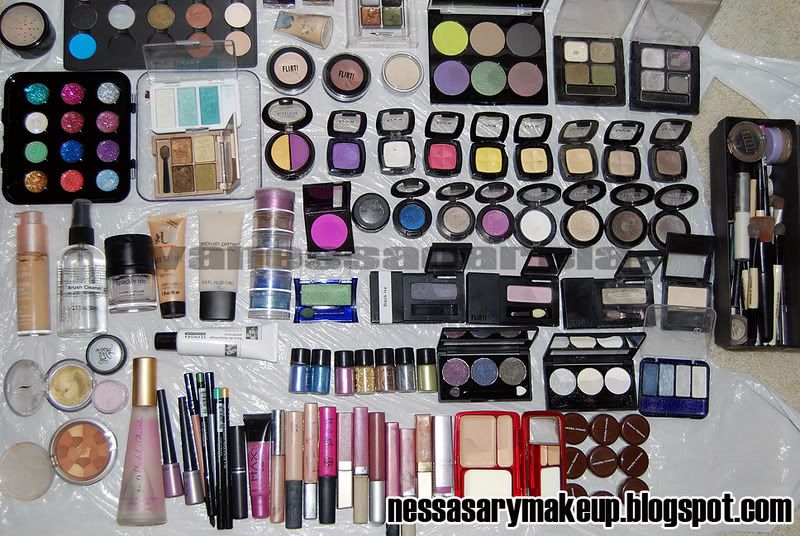 I am so totally gaga for makeup that I have to really make a point to not spend all my money beefing up my collection! Haha. I'm currently saving up to get some more brushes but will be getting a few things at the drugstore that I've heard are really good and comparable to high-end brands, woot!
2. Nail Polish and Nail Art!
(picture is [not my nail polish] courtesy of
Karen's makeup and beauty blog
)
I have started collection nail polishes (in addition to makeup) and doing my nails WAY more than I ever have in my life! Haha. I want to get some acrylic paint and brushes to start doing some of the awesome designs I've seen on youtube. Crafts stores/sally's here I come!
3. Blogging/Twitter
(picture is courtesy of
Toothpaste for Dinner
and
Zeugma
)
I've always been on facebook and myspace and stuff like that but never have I been as active and happy about it as with Twitter and Blogging. I enjoy Twittering because it's just like ...whatever you want, whenever you want, and there's so much you can learn about on there with the trending topics, etc. With blogging I've discovered an avenue to be a little vain, talking about myself and what I like, and I've also learned a lot too. I can go to other peoples' blogs and discover things about products I never knew/might have wanted to try/will buy, etc. I've discovered places where I can get things inexpensively, etc. It's just a great arena to learn and express yourself and I'm so glad I found it/them! (wow I'm only at 3, haha!)
4. My Phone
Woohoo! I love my Blackberry (I hate AT&T though, lets not go there). I originally got the blackberry just because my Aunt's work was going to pay for it, LOL! Then that plan fell through and I ended up paying for it so I changed my plan to the bare minimum. However, I recently switched it back so my Blackberry does a bunch - I go on the internet, twitter, facebook, check my e-mail, etc. I love it.
5. Coffee
(photo courtesy of [Dunkin Donuts!]
energyfiend
)
I LOVE coffee! When I was younger I stayed away from the stuff like it was the devil (I'm short and I had heard it stunts your growth, and lets face it... it stains your teeth!) However, when I started my full-time 7:30-3:30 job it was like, the cool thing to do/everyone was doing it (drinking coffee). So, I started having a cup (like 6oz) from the fast brewer in the little coffee room at work. Within no time I was in that coffee room like three times a day. Then I decided I would stop drinking it because caffeine is not that great for you and I wanted to whiten my teeth. I stopped drinking it for about a month and now I'm back to drinking it everyday, just two cups now. But, I've started buying different brands (dunkin', folders, green mountain) and experimenting with brewing. Ugh. I bought an expensive machine for at home and now I need it all the time, even on the weekends!
Alright, well those are my current obsessions. I hope you guys enjoyed reading!!
What are all of your current obsessions? I tag everyone who wants to participate, particularly
1.
Holly (DollyMix184)
2.
Ella (Ellacinderella)
3.
Dulce (Dulce Candy)
4.
Courtney (escourtn3y)
5.
Sonia (sccastaneda)
Thanks so much for reading my blog!